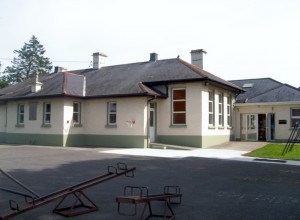 Dunsany National School
Welcome to our website. Dunsany N.S. is a small, intimate  country school nestled beneath the trees of Dunsany Church in the centre of the picturesque village of Dunsany, Co. Meath.
We have four full-time, fully qualified primary school teachers and a complement of ancillary staff members.  The caring ethos which is the hallmark of  our school  is  valued by all who attend  here. Standards of excellence are expected and strived for.
Some of our educational initiatives include World Maths Day, Artefact Day, Art Exhibitions, senior/junior collaborative projects and World Book Day celebrations.
In June 2013 we were awarded the Blue Flag by the European Commission in recognition of our success in the Bluestar Schools' Programme. 2012 saw us take receipt of our new laptop trolley and 10 new laptops. The Parents' Association made a presentation of 2 new laptops also.
We have an active and thriving PA and greater parent body which works hard each year to raise funds which go directly back into the school.
The school takes part in inter-schools' sports competitions in many disciplines;  football, hurling  and cross-country running.  We have had many successes in these competitions over the years.  In 2013/14 our Boys' Football Team won the Cumann na mBunscol county final in Páirc Tailteann and again that year our Boys' Team took the Cumann na mBunscol county final in hurling also. Our Girls' Team took the football title in 2010 and also took 3rd place in the Meath Cross Country Championship that year. A new basketball court was erected in 2011 and basketball is taught as part of the PE curriculum.   We have taken part in GAA initiatives in hurling and football with external trainers and in a Leinster Rugby initiative, tag rugby and were the first school to take part in Meath Athletics School Programme when they started out in 2010.
Drama and music play a great part in school life here in Dunsany NS too.  Regular performances are the norm in any given school year.  In addition to class performances, the school is home to a stage school group, run by two local experienced tutors who offer weekly lessons to the pupils, culminating in a stage show each year.  We hold weekly extra-curricular tin whistle lessons too. This year will see over half the school take part in the Hallelujah Choir at Citywest Convention Centre. This yearly Christmas event sees 3,000 pupils from all over Ireland take part and is conducted by the eminent Gearóid Grant.
Each Tuesday there is a "Chirpy Chicks" toddler group held in the GP room in the school for parents and toddlers from 10am to 12 noon. (Approved by Meath County Childcare)
The school celebrated its 85th Birthday in style in September 2013  with a Gathering which drew a crowd of over 300, with past pupils coming from all over the country and from England.
We hold an Open Night for the general public each spring which is advertised locally at the time and posted on our website.
Buail isteach orainn anseo sa scoil agus cuirfear fíor fáilte romhat agus roimh do pháiste anseo ag ár doras.  You have to experience a small school to know the joy that it is. If you would like to visit our school please phone or email and we would be delighted to meet you.
Principal: Mrs. Catherine Bockett
Vice-Principal: Mrs. Eileen Muldoon
To contact us: 046 9025058
Or Email: dunsanyns@gmail.com
Here is a link to Senior Room blog:  Click here